 Take The Guess Work Out Of Working Out And Follow A Tailored System Made Specifically For YOU
Why You Should Become An Overtime Athlete Custom Program Coaching Client
Feature #1
Follow a proven training program that's specifically made for your needs.
Feature #2
Have access to Overtime Athlete Coaches that will help you along the way.
Feature #3
Waste no time. Everything you do WILL take you to where you want to be.
Feature #4
Join 1000's of other athletes becoming the ultimate version of themselves
What you receive as an Overtime Athlete Online Coaching Client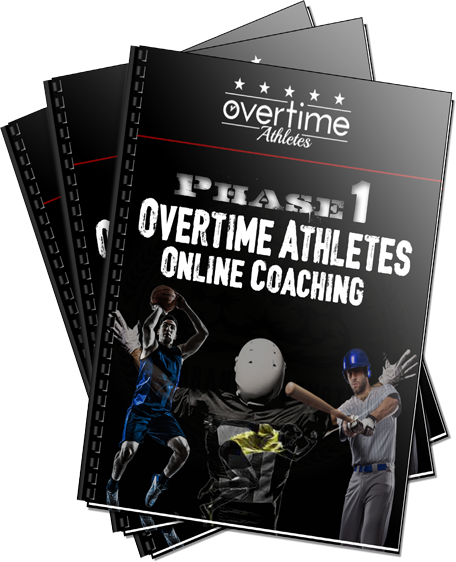 Why Should You Trust Overtime Athletes
Chris Barnard has been in your shoes. He wasn't born genetically gifted, and he had to work his ass off to get to where he is now.
That means he knows what it takes to get to where you want to be. He's taken his athletic potential to heights he never thought he'd reach, but with the systems he has founded he was able to become a top prospect in college football.
If you want to become an elite athlete that has collegiate and professional teams knocking on your door this is your opportunity to make your dreams a reality.
Never has Overtime Athletes offered custom program designs online. Before, if you wanted to get coached by Chris you'd have to come to Strength Camp in St. Petersburg, FL.
But Now you can stay in the comfort of your own home and get the same proven results that Coach Chris has provided to thousands of athletes.
What Other Athletes Are Saying About Coach Chris's Training

Linebacker, New York Giants
There is no room for mistakes or mistepping in this sport. If you want to dominate, you need to train with a system that is fool-proof! Coach Chris's methods for developing strength and speed is the best!
I was skeptical if it would truly help me on the baseball diamond because I worked with so many different trainers and programs but after 3 months I saw a drastic change on the field.
I was able to add 20lbs of lean solid muscle by the end of the 3 month program.

Following Coach Chris's program made me knock my 40 down from a 4.6 to 4.41 and gained over 50lbs on my bench and squat.
Stop Wasting Time And Start Getting Closer to Your Athletic Goals
Overtime Athletes Online Coaching Isn't For Everyone
I'm fully aware that not every athlete is as dedicated to their athletic career as they should be. This is why I have an application process to become an Online Coaching Client
I will be 110% dedicated to your sucess as long as you give me 100% of your efforts.
Apply today and get started Dominating your sport
Copyright 2015 - Overtime Athletes - All Rights Reserved